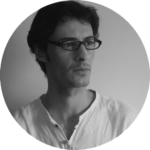 Julien L'Hermet is passionated in Editorial Design and Web Design. He actually is a perfectionist maniac. Some say that he spends too much time refining every little detail on his projects. But this is how he sees Premium Quality: sharp eyes for details and open space.
"Premium quality is how deep you go into detail all the while remaining the most simple."
He started out as a freelance Web Designer/Programmer and stopped for a while to focus on Print Design. Instead of getting freelance jobs, he decided to sell templates on digital marketplaces. The competition was so fierce that he learnt not only about being a better designer but also about business, communication and marketing. He is now rewarded by having his best selling products sitting on the first page of his category in one of the most popular digital marketplace on the web.
ID Vision Studio was created in 2013 by a French gentleman who goes by the name of Julien L'Hermet. Today the studio is open for tailored services in Graphic & Web Design thanks to his ability to find reliable partners who help him keep the quality of his products and services in the premium aisle.
Skype: iddesignstudio
IDVisionStudio.com
Xiamen 361000, Fujian, China
Monday to Saturday: 8am to 7pm Beijing Time (GMT+8)